Learn about the main corporate training concepts that will help your company achieve optimal results in 2022 and beyond.
Corporate e-learning is increasingly becoming an important part of modern organizations. According to data released by the Brazilian Association of Training and Development, in 2021 companies should invest 20% more in training and development (T&D), compared to the previous year.
Many organizations support this idea and consider corporate training an essential part of a company's investment and growth strategy. The World Economic Forum estimates that by 2025 in-company learning will be offered to more than 70% of employees, a growth factor consistent with the current online education trend.
Opting for online training offers several benefits, such as greater visibility of metrics and results, greater project scalability and cost reduction, but it is also important to ensure that these initiatives are in line with the core concepts that will continue to guide corporate training in 2022.
Corporate training in 2022: key concepts
Lifelong learning
The concept of lifelong learning emerged in the early 1970s from the vision of three international bodies—UNESCO, the European Council and the OECD)— with the aim to reframe education methodologies in Europe. However, this new model only became popular after the UNESCO International Commission on Education for the Twenty-first Century published its report in 2010.
Lifelong learning frames personal and professional development as a voluntary, proactive and ongoing activity based on learning experiences. In other words, it's about learning throughout one's life and continuing education; it's about the need for individuals to continue working on their learning and development. The focus of the concept is based on four fundamental lifelong learning pillars: learning to know, learning to do, learning to live together and learning to be.
Employee-centric approach
An employee-centric approach implies a shift of perspective to focus exclusively on the employees.
A company that holds the employee as protagonist creates a work environment that provides opportunities and incentives for its associates, showing that the organization cares, values and respects its members.  
This is ultimately reflected in the way the brand relates to its consumers: at the end of the day, workers are the best ambassadors of a brand and, at the same time, internal customers of the company.
Upskilling and reskilling
In line with the concept of lifelong learning, the idea of upskilling is to promote further development in areas and skills where professionals already have some level of knowledge. To respond to an ever-changing environment, it is important to be continually learning, reinforcing previously acquired knowledge and acquiring new concepts.
Reskilling, on the other hand, is when a professional is looking to develop new skills in order to perform other jobs or requalify. This concept is all-important for any professional who wants to keep up with technological changes and, consequently, the job market.
Hyper-personalization
As the name suggests, hyper-personalization is a concept in which the learning experience becomes highly customized for each individual. In the context of T&D, it applies to platforms that offer a learning journey based on each learner's goals and interests, and where the training program is personalized through the use of artificial intelligence.
This means that the platform learns the unique characteristics of each individual, not only to work on more pressing areas of improvement but also to provide relevant content that will ensure employee engagement throughout the program.
Well-being
Thinking about people's well-being has never been more front and center as it is today. With more and more people feeling a downturn regarding their mental well-being, companies must do away with misconceptions on mental health and create a safe and supportive environment.
Corporate mental health training should teach employees about common working conditions and educate them to recognize the signs of mental health conditions both in their colleagues and themselves, things such as stress, burnout, anxiety and depression.
Diversity and inclusion
A study on diversity conducted by McKinsey & Company shows that companies with more diverse managerial teams are more profitable. The companies with the highest gender diversity in the sample are 21% more likely to perform above market average than companies with less diversity. In the case of cultural and ethnic diversity, this figure rises to 33%.
It's clear to see: different individuals have different realities, and bringing together people with diverse experiences and cultures helps improve the business through new ideas and fresh perspectives.
Putting these concepts into practice
Voxy combines innovative technology and an effective methodology to deliver corporate English language training that is aligned with best practices and the most relevant concepts for the future of training and development.
If you'd like to learn more about how we use artificial intelligence to deliver personalized content that is fully online and encourage lifelong learning, schedule a demo with our team of experts.
Learn more
about modern language training and L&D best practices!
Free Resources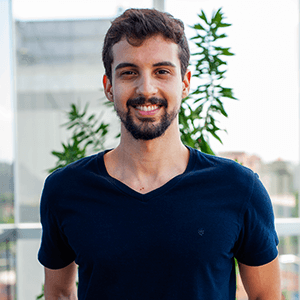 Matheus is a Senior Marketing Analyst at Voxy. Part of the Marketing team, he works hard to create valuable experiences that bring more happiness into people's lives. He has a Bachelor's degree in Business Administration by FEA-RP/USP and years of experience in marketing and communication.