Find out how a personalized English course can lead to fast and effective results, making your company even more competitive.
The transition to increasingly digital work models within companies has paved the way for expanding markets, global negotiations and communication with partners all over the world – a trend that is definitely here to stay.
In this globalized context, providing your team with an English language program is a strategy that goes beyond employee training and development: it brings your company results.
However, it is important to make sure that this kind of training program is aligned with best market practices and the actual needs of your business, and this is where the importance of a personalized English course becomes clear. Based on these guidelines, Voxy developed its 100% online English training solution, which combines innovative technology and an effective methodology to produce impactful results.
How does a personalized corporate English course work?
When it comes to personalization, there are a number of factors that need to be taken into account, ranging from the company's and the employee's line of work, to the team's level of proficiency, to topics of interest and practical day-to-day needs.
Voxy's solution uses artificial intelligence (AI) to collect data that helps shape employees' learning paths and create a fully personalized experience. This means that each learner will study topics that are relevant to them and aligned with their line of work and personal circumstances, helping to upskill your company's teams.
Currently, Voxy offers more than 60 courses focused on various professional needs, ranging from work routine essentials to courses on specific areas such as technology, finance, leadership, and diversity and inclusion.
Learn more
about modern language training and L&D best practices!
Free Resources
Personalized curriculum
With AI as a key ally, Voxy's personalized English course stands out thanks to its comprehensive curriculum, which is fully adapted to learners' needs and line of work. This is what sets it apart:
Personalization – The content and live classes are dynamically formatted considering each student's proficiency level, interests and professional goals.
Immersion – Voxy uses authentic content with real-world English from renowned partners such as The Economist, Bloomberg Business and Financial Times.
Adaptation – Every student's learning journey is constantly adapted based on their progress throughout the course.
The benefits of online learning
The growing demand for online training – driven mainly by the changes brought about by the pandemic – is expected to continue in the coming years. For companies, these changes come with several advantages in terms of training and development:
Flexible scheduling – Employees can attend classes and lessons whenever and wherever works best for them.
Inclusion – With lower costs and greater scalability than in-person training, online programs enable you to conveniently provide training to even more employees.
Control – A good online training platform provides reporting dashboards that enable program managers to track the most important data on employee progress and engagement.
Personalization – An online training program makes it possible to continuously leverage AI to build personalized learning paths with the most relevant content for each employee's needs.
Value for money – In addition to all the benefits above, online training programs help companies reduce costs inherent to in-person programs by eliminating expenses associated with infrastructure, logistics, etc.
Online training is provided on purpose-built platforms known as Learning Experience Platforms (LXP). This is the virtual environment where Voxy centralizes all English learning activities, from self-study content to live classes taught by certified teachers, with mobile-ready functionality so employees can study on their phone, whenever and wherever they are.
Get impactful results with a personalized English course
Successful companies always closely monitor the results of their investments, and this is no different with English language training.
Having tools that enable constant management and assessment with insight into student progress is essential to evaluate the learning process. That's where the Voxy Command Center comes in: it's a management and reporting platform that provides key data on team performance and engagement throughout the course.
According to the Workplace Learning Report, "learning has taken center stage," and personalized English courses are an excellent option to consider in an increasingly globalized market. The study points out that T&D professionals are betting on online learning as a trend for corporate training, and Voxy has the best solutions to support you throughout your journey towards ensuring your company's success!
Give your company a long-term competitive advantage by implementing a personalized English course that's tailored to your specific needs. Contact Voxy and schedule a meeting.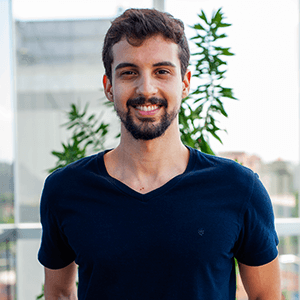 Matheus is a Senior Marketing Analyst at Voxy. Part of the Marketing team, he works hard to create valuable experiences that bring more happiness into people's lives. He has a Bachelor's degree in Business Administration by FEA-RP/USP and years of experience in marketing and communication.