Find out what a Learning Experience Platform is and how this technology can enhance your company's English training program.
English language proficiency is a highly valued skill in the job market, yet many companies are still trying to find the best way to provide English language training to their employees.
Though corporate e-learning has been around for some time now, the shift to remote work has shown that online learning is here to stay.
Online training offers many benefits, such as enhanced visibility of metrics and results, greater scalability and cost reduction, but it is also key to consider a format that will provide a good user experience, boosting not only knowledge retention but also program engagement.
The Learning Experience Platform (LXP), a platform that uses technology to enhance the results of remote training, was created with the aim of achieving high quality in online training.
The benefits of an LXP
The key feature of an LXP is that it uses artificial intelligence to identify each learner's needs, goals and interests and personalize their training program.
This means the platform learns about the unique characteristics of each learner not only to work on more pressing areas for improvement but also to provide relevant content that will ensure employee engagement throughout the program.
In addition to using technology to customize the learning experience, a good LXP also offers content aligned with best practices in education, such as microlearning, to allow for greater flexibility and freedom throughout the training programs.
Combining innovative technology and traditional practices
Although technology is a definite game changer in English language training, we shouldn't just bypass the benefits of traditional methods, such as group classes for learners to practice their conversation skills.
This type of platform can also encourage learner interactions, which not only contribute to more comprehensive learning but also make learning more engaging and dynamic.
Voxy's Learning Experience Platform is designed to boost engagement and knowledge retention. Combining artificial intelligence and classes with certified teachers, the platform provides customized training, by automatically adapting content and lessons to each learner's proficiency and needs.
If you want to learn more about how Voxy combines innovative technology and effective methodology to deliver unmatched online English language training, schedule a demo with our team.
Integrating platforms to optimize the learning experience
While LXP is a more recent concept, many companies already know and use Learning Management Systems (LMS), which are predefined online learning platforms that help L&D professionals organize and deliver learning content to employees.
Platforms such as Moodle Workplace, Blackboard and Brightspace (just to name a few) are widely used when it comes to corporate e-learning. While useful, these platforms often don't offer features like AI to provide customized content, which is why LMS integration is very important.
To get the full benefits of an LXP without having to abandon their existing LMS, companies must find options that offer integration with the most commonly used platforms. This can help companies not only provide an integrated experience for employees, but also increase the control and security of the training program, saving IT significant costs and time.
Combining artificial intelligence and microlearning with the expertise of trained and certified English teachers, Voxy's LXP offers proven English language training that is easy to integrate with various LMS. Contact our team to find out how we can innovate your company's language training.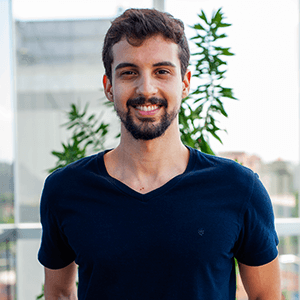 Matheus is a Senior Marketing Analyst at Voxy. Part of the Marketing team, he works hard to create valuable experiences that bring more happiness into people's lives. He has a Bachelor's degree in Business Administration by FEA-RP/USP and years of experience in marketing and communication.