Learn about the importance of conversation practice on English learning and why it should be part of your company's corporate training program.
Aside from the fact that English is one of the most widely spoken languages in the world (by native and non-native speakers alike), it is also the predominant language of the business world. Although English words have made their way into everyday conversation in almost every language, the corporate environment is now particularly anglicized: you could easily hear a Portuguese speaker talk about their daily "calls" and a Spanish worker's concerns about their tight "deadlines".
To make sure that work teams are always evolving and keeping up with changing market demands so as to maintain the competitive edge of the organization, companies need to think more and more about investing in quality training and employee specialization.
Why invest in in-company English training?
Nowadays, it's not only large multinationals that need to worry about a global market. With the growth of remote-work policies, the internationalization of work teams has become an increasingly pressing reality for many organizations.
English has become the go-to language not only to enable efficient communication and ensure the productivity of global teams, but also to empower employees who need to be in contact with foreign suppliers, talk to IT support teams, and even to keep up with market news and trends.
Thus, it's very important that business managers start to rethink how their international relations work. Failing to empower your employees so that they can interact with foreign markets can not only be a barrier to the team's productivity, but it can also jeopardize the company's survival.
How important is conversation to learning English?
One of the main factors that driving professionals to get English training is the need to participate in meetings or make presentations to international groups of people. Good communication skills are key in creating productive work environments.
Of course, mastering English writing and reading skills is also necessary, but providing opportunities to develop speaking skills is a must in any corporate English training program — after all, this is how employees will get used to different accents, colloquialisms and even everyday conversation noises, such as minor glitches in video conferencing.
This practice goes beyond just teaching how to speak the new language. Conversation is also an important ally for practicing and consolidating grammar content. For instance, conversation is the vehicle that allows each employee to connect the topics of the lessons to everyday situations. Moreover, conversation lessons have other benefits, such as:
A safe learning environment: Some learners have an easier time, but others find it more difficult to express themselves, either because they're shy or are afraid of making a mistake. Private English classes create an environment that is more conducive to fostering interaction and building trust.
The presence of an English teacher: The teacher plays an important role not only as a mediator, but also in identifying and correcting errors, always in a didactic way, of course.
Focus on speaking and listening: Conversation classes are shaped so that learners not only practice speaking but also listening comprehension. Live group English classes, for example, provide a setting where learners come in contact with different accents and professional profiles, encouraging employees to learn to communicate with different people.
Real-world content: The teacher can stimulate each learner with current topics or issues relevant to their everyday lives. This habit will help learners to always be ready to express themselves in different contexts.
Teams that are up-to-date and ahead of the market
Another advantage of encouraging English language training within the company is that it gives staff access to new and updated information from all around the world, since most of the time the content available on the Internet usually appears in English first.
By mastering the language, teams can not only read articles and reports from all over the world but also participate in international events and conferences focused on their areas of expertise, where they will be exposed to leading practices and can implement them on a daily basis to improve their personal performance.
As you can see, having your employees speak English can bring many benefits to your business:
Increased potential to do business with other countries
Access to international technology solutions and suppliers
Improved team productivity through efficient communication
Opportunities to participate in global discussions related to your business area
Among the various corporate English training solutions created by Voxy, we also offer fully digital, live conversation classes focused on the specific learning needs of each employee and led by trained and certified native teachers.
In addition to the guided lessons, our platform also allows each employee to study at their own pace, using artificial intelligence to customize the content that best suits each individual in order to increase engagement and encourage continuous learning.
Contact Voxy's Global Solutions team to find out how you can improve your business results through unparalleled English language training.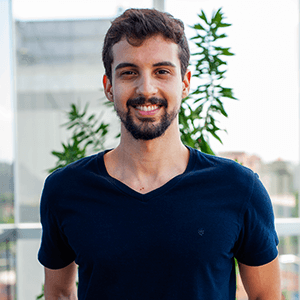 Matheus is a Senior Marketing Analyst at Voxy. Part of the Marketing team, he works hard to create valuable experiences that bring more happiness into people's lives. He has a Bachelor's degree in Business Administration by FEA-RP/USP and years of experience in marketing and communication.