Learn about new trends and best practices in corporate training, and about the case study on the partnership between Maxion Wheels and Voxy.
Continuing with the busy schedule of the last few days, Voxy recently participated in another event, Educação Corporativa Virtual Experience, organized by ABTD/PR. During the event, our Account Executive, Rodrigo Saretto, and Maxion Wheels' Human Resources Supervisor, Monica Chiusi, gave a presentation on the trends and best practices of online English language training and shared the case study on the partnership between the two companies.
During the presentation, Rodrigo brought up concepts such as e-learning, upskilling, reskilling, the student's leading role, as well as diversity and inclusion, topics that are becoming increasingly more relevant in the day-to-day work of training and development professionals. And e-learning was undoubtedly one of the highlights— according to a survey conducted by LinkedIn with 1,200+ professionals, 79% preferred online training.
Trends in corporate training
The shift toward e-learning is an opportunity for organizations to optimize financial resources as well as management time, which would otherwise be spent on administrative tasks. Another advantage is the possibility of measuring results through real-time dashboards, tracking individual and group performance.
The same survey carried out by LinkedIn pointed to diversity and inclusion as a priority goal for 64% of human resources professionals in 2021. This issue goes hand in hand with training and development as equality in employee training would also promote equality in career promotion opportunities.
Upskilling, training employees toward improving their current job performance, and reskilling, training employees in new skills, are also strong trends in terms of corporate education. Rodrigo also shared data from the World Economic Forum: 50% of professionals will have to go through a reskilling process by 2025, and skills such as problem-solving, self-management, leadership and technology development will be in significant demand by then.
The leading role of students was also part of the presentation—after all, it is important for people to be actively involved in their learning process, and in this sense artificial intelligence is definitely an ally, generating the content personalization that drives engagement. Techniques such as microlearning, i.e., breaking down the content into a smaller and easier-to-digest format, together with opportunities for hands-on learning, are factors that make all the difference to the results of corporate training programs.
Solving problems through corporate training
To illustrate the topics covered with real world scenarios, Monica Chiusi showcased the effects of the trends throughout the English language training program offered to Maxion Wheels' employees, which she supervised.
Maxion Wheels, the world's leading wheel manufacturer, implemented the English Acceleration Program in 2019 in partnership with Voxy to help employees improve their proficiency in English, which represented an urgent need for the organization. Fifty employees were selected from the plants in Mexico and Brazil; as such, one of the biggest challenges for the program was to adapt to different time zones and cultures.
Before starting with Voxy, a survey was conducted among Maxion's employees in which all of them reported having studied English before; in average, they had spent 10 years learning the language without achieving the expected results. This reinforced the need for a program tailored to each individual's needs to provide real gains in proficiency.
Maxion employees also said that they would like to interact more with English speakers to develop their conversation skills. Based on previous experiences, 30% of employees showed interest in new learning formats and also pointed out flexibility as a key element in their study routine.
Putting training plans into practice
To ensure the results of the training program, Maxion suggested a minimum of study hours per week and activities per month, plus at least 2 online group classes per month. In addition, the HR team conducted regular tracking of the program through Voxy's management solution, the Voxy Command Center, helping direct supervisors and heads of each unit contribute with follow-ups.
With these well-defined policies in place, after the first 12 months of the program we saw that more than 80% of the participants showed a high level of engagement with amazing results: more than 4,500 hours of study, over 100,000 activities completed and more than 1,700 group classes within Voxy.
Real results with impact on day-to-day professional life
In a survey conducted at the end of the program, 80% of employees said that the use of English is an absolute must for their jobs, and even more impressive is the practical impact of the program: 71% of the learners reported saving between 1 and 6 hours of work per week due to increased proficiency.
These efficiency gains were mainly due to employees feeling more confident to participate in meetings and conferences and read and write emails, technical documents and reports in English.
Moreover, when asked to rate on a scale from 1 to 10 how likely they were to recommend the program, Maxion's employees answered 9 on average. The success of the program is due to a combination of Voxy's innovative technology, which uses artificial intelligence to enhance the learner experience and increase engagement, and the strong follow-up and clear strategy set by the leaders of the program at Maxion Wheels.
The partnership between Voxy and Maxion Wheels remains strong and has been extended in 2021 in response to the growing demands of the new remote working environment, as well as further internationalization of the market. If you'd also like to learn how Voxy can help your company improve staff productivity with 100% innovative online English language training, contact our team.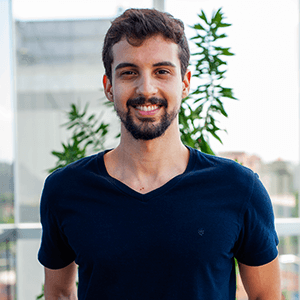 Matheus is a Senior Marketing Analyst at Voxy. Part of the Marketing team, he works hard to create valuable experiences that bring more happiness into people's lives. He has a Bachelor's degree in Business Administration by FEA-RP/USP and years of experience in marketing and communication.