Understand what lifelong learning is, its importance, and how you can encourage this habit in your employees.
More than ever before in human history, our work habits, production models, and even people's relationships are evolving at a very fast pace. To excel in this ever-changing world, lifelong learning, or the ability to be constantly learning throughout one's life becomes key.
This concept, which has gained strength in recent years, is a reflection of how dynamic the current world has become, where professionals need to be always willing to learn something new, keeping up with the intense pace of the market. In this context, companies can actually become active partners in their employees' learning journey.
Find out more about the concept of lifelong learning, why it's important to invest in this habit, and how to put it in practice within your organization.
What is lifelong learning?
According to the Lifelong Learning Council Queensland (LLCQ), an institution dedicated to disseminating the concept around the world, the idea of lifelong learning is defined as "learning that is pursued over a lifetime: learning that is flexible, diverse and available at different times and in various places. Lifelong learning extends across sectors, promoting learning beyond the traditional school and throughout adulthood."
In other words, it's about learning throughout one's life, or continuing education; it's about the need for individuals to be constantly educating and developing themselves.
Beyond the educational field, in the corporate sector the concept has been adopted to encourage the strengthening of an organizational culture that values the learning process among employees.
After all, in such a competitive labor market as the current one, a continuous training process is crucial to help professionals develop a set of personal and job-related skills to deal with the challenges of the corporate environment and to encourage the development and growth of people and the organization.
The focus of the concept of lifelong learning is based on four fundamental pillars: learning to know, learning to do, learning to live together, and learning to be.
The four pillars of lifelong learning
According to the LLCQ, there are 4 essential pillars that support continuous learning.
Learning to know
It is important that we retain the knowledge we acquire, and to do that, we need to understand the process. When a person has an interest in a subject, they begin to exercise their memory and attention, which in turn multiplies their knowledge. This is possible by combining a broad general knowledge with more in-depth and specific studies, making room for new knowledge to last a lifetime.
Learning to do
Even though theoretical knowledge is fundamental to the learning process, it is through practice that the individual can exercise what they've learned until the new knowledge becomes a habit. Thus, employees need to perform tasks that will lead them to develop the behavioral skills necessary for the job.
Learning to live together
We have a lot to learn from each other and, for this reason, knowing how to relate to each other is of the essence. We need to confront adversity, understand the other's perception, and resolve conflicts in order for the learning exchange to happen.
Learning to be
Human development is also an important pillar to elevating knowledge. If you have the autonomy to study new things and break new ground, you can then add value to society through innovation. This is why that independent potential has to be encouraged.
Some common examples of lifelong learning include: developing a new skill, learning a new sport or activity, learning a new technology, and self-study. Because it is a habit that is very much a part of each individual, people who want to pursue lifelong learning need to be self-motivated, curious, capable of self-study, and proactive.
Lifelong learning: why invest in this habit?
Investing in lifelong learning means investing in personal and professional development, building teams capable of standing out among other competitors, and solidifying the company's position in the market.
Much like upskilling, the notion of continuous learning is related to a professional's specialized development, which contributes to the formation of more productive, specialized and motivated teams.
While this process should be self-motivated, companies can all the same invest in developing this habit in their employees to make them more efficient, more technically capable, and also more engaged with the organization. As such, lifelong learning is a win-win situation for both companies and individuals.
Therefore, promoting continuing-education initiatives, such as training and personal development activities for employees, is a strategy that can translate into several benefits for companies, namely:
Increased ability to solve day-to-day problems
Teams that have a holistic view of the business
An up-to-date, competitive team
In addition, employees will feel valued, which helps boost their motivation and engagement, thus improving their performance.
How can you implement lifelong learning?
Despite being a widespread concept, lifelong learning is still not too widely applied by organizations in their day-to-day operations. Hence, it is worth pointing out a few effective strategies to put continuous learning into practice.
In this sense, technological advances have been instrumental in making lifelong learning more accessible. Thanks to the popular and ubiquitous use of mobile devices, teaching―once restricted to the formal classroom setting―has gained new possibilities and spaces through e-learning.
Conducted through digital platforms and 100% online, e-learning is the basis for the development of new course formats and training programs. This broadens people's educational options, since they now have the possibility of studying when and where they want to as well as set their own learning pace.
At Voxy we offer fully digital corporate training focused on the specific learning needs of each employee. Through the use of AI, our platform personalizes the most suitable content for each individual in order to increase engagement and encourage constant learning.To learn more, schedule a demo and learn how you can increase your teams' productivity with our corporate training solution.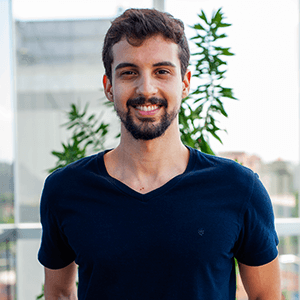 Matheus is a Senior Marketing Analyst at Voxy. Part of the Marketing team, he works hard to create valuable experiences that bring more happiness into people's lives. He has a Bachelor's degree in Business Administration by FEA-RP/USP and years of experience in marketing and communication.