Communication can be a key challenge for leaders and L&D departments in multinationals. Learn how they are overcoming some of their problems.
Working in a multinational company is often the dream of many professionals. Contact with other cultures, languages and customs is enriching, but an international environment can also cause problems for managers and their teams.
Besides the physical distances―something the world has recently learned to deal with through the widespread adoption of remote work―there are additional challenges such as communication issues, time zones and talent development. 
Quality communication is key
Communication is, in short, what takes place when a sender transmits an idea or feeling to one or more receivers. Simple as this may sound, this is not always easily applied within companies, especially multinationals.
When a receiver doesn't have a clear understanding of the message that's been transmitted, it can lead to misinterpretations. This could mean an instruction might not be followed correctly, a deadline might not be met, or a sale may not be completed.
Thus, communication needs to be clear and objective. The point is not just to pass a message on, but to make sure that the receiver actually understands the information being conveyed.
Multinationals and their communication barriers
In multinational corporations it is normal to have teams made up of people from different countries, whose first language might be different. While this is great for the team's diversity, this setup requires a special approach for communication.
Considered the lingua franca of the business world, most companies choose English as their common language. However, how can they deal with the need for English proficiency in global teams with members in countries like Brazil, where only 5% of the population can communicate in English and only 1% is fluent?
This is one of the main reasons why these multinationals offer corporate English language training to their employees. For example, Maxion Wheels, the world's leading wheel manufacturer, implemented their English Acceleration Program in 2019, in partnership with Voxy, to help employees in Brazil and Mexico who needed to improve their English language skills right away. 
Although this training is highly valued by professionals, who are motivated to improve their language proficiency, managers and leaders need to keep this issue in mind in order to act on the need when it crops up.
Balance of opportunities and focus on incentives
Another common problem in global teams is the tendency to choose only employees who are more fluent in English to lead projects. This hinders the professional growth of those who have not yet mastered the language— this is why investing in English language training for the whole team is so important.
In addition, it is also important to encourage a safe and welcoming environment when it comes to communication. For example, the company's leaders can instruct those who are more skilled in the new language to speak slowly and encourage those who feel more insecure to participate, making sure that everyone is understanding what is being discussed.
Time zones and flexible hours
Besides a command of English, time difference is often a common issue in international teams, since members usually need to work in sync despite them being in different time zones.
One possible solution is to implement a flexible schedule policy, so that teams can start or finish work earlier or later depending on the interactions that must take place simultaneously in various countries.
It is also important to keep in mind that the difference in time zones must not become a barrier that excludes certain individuals from the company's daily routine. If it is not possible to establish a work routine that accommodates all employees, then making sure to hold town halls at more inclusive times and recording important information in documents available to everyone 24/7 are also good practices.
Despite the many benefits of building an international team, bearing in mind the challenges that may arise is key to ensuring the success of multinationals. If you'd like to learn how Voxy can help your company overcome communication barriers with our innovative 100% online English language training, contact our team.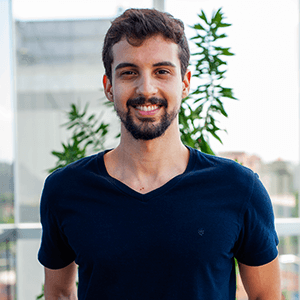 Matheus is a Senior Marketing Analyst at Voxy. Part of the Marketing team, he works hard to create valuable experiences that bring more happiness into people's lives. He has a Bachelor's degree in Business Administration by FEA-RP/USP and years of experience in marketing and communication.