Check out these 3 key points to consider before investing in a corporate e-learning solution for your company.
Aware that investing in employee training and development can boost a company's competitiveness and talent retention, many organizations are looking at corporate e-learning as a way to offer increasingly personalized and innovative learning techniques.
If you decide to invest in a training and development solution, here are some important things to consider when assessing corporate e-learning platforms:
Adaptation and personalization are key in corporate e-learning
One of the advantages of e-learning is that it allows you to customize training based on specific professional needs and market segments. The ability to personalize content is essential to ensure the training provides real results for organizations.
Artificial intelligence is currently an important ally of corporate e-learning since it provides insights on learners to continuously adapt the content according to their progress and interests throughout their training journey.
Corporate e-learning programs ought to be engaging and scalable
The interaction between groups of learners and teachers is fundamental to the learning process, as these experiences allow them to put into practice what they've learned. Choosing a platform that offers direct interaction can help increase knowledge retention as well as employee engagement in the program. In English language training programs, for example, consider options that offer not only individual lessons but also live instruction.
Scalability is another key point of corporate e-learning solutions. With a convenient online platform, large companies should be able to offer their development programs to a large number of professionals across the globe. That scalability can not only make the entire training initiative easier to manage, but also can enable a more comprehensive program that benefits a larger number of employees.
Tracking results lead the way to continuous improvement
Although you may be a bit tired of hearing about the importance of data in today's world, this is still a key issue in e-learning.
A good online training platform should allow program managers to track the results and progress of learners through detailed and actionable reports. This kind of data will help your HR or T&D team to identify necessary adjustments to current training, allowing them to develop strategies to improve its ROI.
Tracking efforts can be paired with periodic assessments to measure employee progress. For example, testing learners' English proficiency at regular intervals helps to assess the health of the training program, while allowing for engagement actions, such as sharing rankings recognizing great employee progress in a given period, in order to increase their motivation.
These are key aspects to consider when looking for a corporate e-learning solution—and these are some of the main features of Voxy's English training solution. If you want to learn how we can help improve your teams' efficiency through innovative English language training based on an effective methodology, contact our team of experts by clicking here.
Learn more about modern language training and L&D best practices!
Free Resources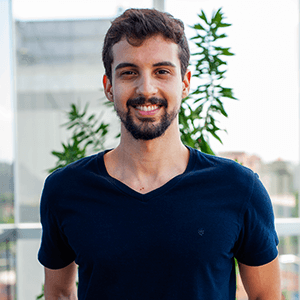 Matheus is a Senior Marketing Analyst at Voxy. Part of the Marketing team, he works hard to create valuable experiences that bring more happiness into people's lives. He has a Bachelor's degree in Business Administration by FEA-RP/USP and years of experience in marketing and communication.