Upskilling refers to intentionally developing team members so that they can increase performance and drive business results. Learn more about how this approach can benefit your company.
The intense digital transformation process, which has been accelerated by recent events, has forced professionals to adapt to new work processes and tools while continuing to manage the challenges of their daily business routines.
These changes have also impacted the way organizations structure their teams. The mass adoption of remote work has shown that geographical barriers can be overcome, and that a team can work very well even when its members are located in different cities, regions or countries.
Given the expanded horizons of this new professional environment, companies have been forced to explore and adopt new practices, ideas, and innovations, where providing adequate training is crucial to ensuring teams are able to achieve their goals. This is where the importance of upskilling comes in. 
What Is Upskilling?
Similar to the concept of lifelong learning, the idea of upskilling is to promote further development in areas and skills where professionals already have some level of knowledge.
As shown in a study conducted by Transcend Network, companies that wish to incorporate upskilling into their training programs should seek models in which learning happens on a daily basis, as a way of adapting to an increasingly complex professional environment.
Benefits of Upskilling
By targeting knowledge areas that their teams already master to some extent, T&D managers can use upskilling as a way to develop their current teams' potential in order to achieve better results in their areas of professional expertise.
Aside from the clear benefit that upskilling provides companies by building more competitive, better trained teams, this type of program also leads to the already well-known benefits of other corporate training initiatives, such as talent development and retention, and staff motivation.
How to Implement Upskilling Programs in Your Company
As we have observed in corporate training programs, leveraging technology can have a significant impact on driving effective results for upskilling programs. 
Once a company has determined which teams have a demand for training and what knowledge areas need to be addressed through professional development programs, setting up the initiative on an online platform that is designed to meet the needs of the modern learner can significantly enhance the benefits.
T&D professionals should harness the potential of technology to promote training that can deliver relevant, personalized content to their teams, using artificial intelligence to identify the right content in order to increase knowledge retention.
Another important concept to keep in mind is microlearning. Even in upskilling initiatives where professionals already have some mastery of the subject matter, making the training content available in short, easily digestible formats is essential to promoting the flexibility and engagement required for a successful training program.
Optimizing Your Upskilling Efforts
One way for an organization to increase the potential return on investment made in upskilling programs is to promote the combined development of more than one skill at a time—and learning a new language is a strategic option within this approach.
As mentioned at the beginning of this post, the professional environment has become increasingly globalized, and mastery of a language such as English is essential to overcoming communication barriers and enabling access to knowledge and expertise from around the world.
Thus, promoting technical training that integrates English language learning is a way of providing your staff with double the professional growth opportunities, making way for more comprehensive development with a greater potential return, both for the company and for the individual.
At Voxy, we offer English courses designed to meet the specific needs of different areas of expertise, such as courses for technology professionals or a course for finance professionals. In these programs, learners have the opportunity to develop the skills and technical knowledge necessary for their daily activities while improving their English language proficiency— it's like two for one.
If you want to learn more about how Voxy combines innovative technology and effective methodology to deliver unparalleled online English training, ask our Global Solutions team for a demonstration of the platform.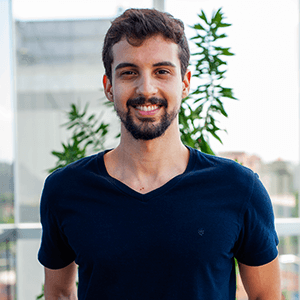 Matheus is a Senior Marketing Analyst at Voxy. Part of the Marketing team, he works hard to create valuable experiences that bring more happiness into people's lives. He has a Bachelor's degree in Business Administration by FEA-RP/USP and years of experience in marketing and communication.