Last week, I had the pleasure of participating in a panel at SXSW EDU 2019, along with Chrystina Russell, Senior Vice President of SNHU's Global Education Movement, and Antonio Tijerino, President of the Hispanic Heritage Foundation.  We had an hour-long, wide-ranging discussion facilitated by Katie Mangan covering the potential for technology to transform education for refugees.
Before we got started, we made sure the audience understood the difference between refugees, who have fled their home countries to avoid armed conflict or persecution, and who have official, protected status under international law, and asylum-seekers, who are people who have left their home countries but are not officially recognized as refugees.
Some highlights from the talk include learning about the Hispanic Heritage Foundation's innovative work with Imagination Stage to create ¡Óyeme!, a collaborative project developed in response to the surge of refugee and asylum-seeking children fleeing violence from Central America (and often experiencing unimaginable horror along the way).  Not only does the play highlight the untold stories of refugee children, it offers them a chance to process the trauma they have suffered so that they can begin to heal.
Telling the stories of immigrants and refugees was a common theme throughout the panel discussion, underscoring the need for U.S. citizens to pay attention to what is happening both  at our borders and abroad and to advocate for those who have no voice.
It was incredibly exciting to hear about how SNHU's Global Education Movement is using technology to increase access to four year degrees for displaced people in refugee camps around the world.  There are over 68 million refugees who've been forced out of their home countries, and only one percent have access to higher education. This program at SNHU is using competency-based courses to make obtaining an advanced degree a reality for refugees, and their graduates are already getting the degrees, skills, and support they need to establish themselves in careers.
The overarching theme of our discussion is one that is near and dear to my heart:  technology by itself will not solve the educational problems of refugees (or any other learners).  We need to use technology to solve specific problems, such as increasing access to education or offering tailored, personalized instruction.  And our solutions should be thoughtful, empirically tested, and high-impact.  As one of my fellow panelists pointed out very succinctly, technology companies should not be testing out new solutions on the world's most vulnerable students.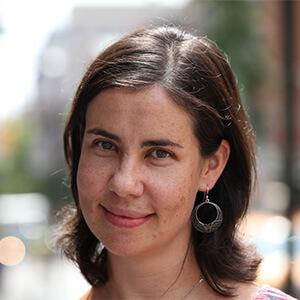 Katharine Nielson, Ph.D. leads a team of curriculum specialists, data analysts, and research associates to develop test items, curate language learning content, develop curricula, and run empirical studies. She's spent twenty years teaching languages, researching how to teach languages, and teaching people how to teach languages in various settings around the world.