I was excited to be interviewed on Kaplan's Trending in Education podcast last week.  Mike Palmer was an incredibly welcoming host with lots of interesting questions, and I got to talk about many of my favorite things, from using technology to improve learning outcomes to driving a car with a manual transmission.  
One of my favorite parts of the conversation was when Mike asked me how my own personal experience traveling and working outside the U.S. has informed Voxy's pedagogical approach.  It's funny, because as a scientist, I am always quick to point out that Voxy's approach is informed by peer-reviewed, scientific research on how people learn languages. And that's true.  But it's also true that my experience living and working in countries where I can't use my first language has made me empathetic to the struggles of non-native speakers.
In general, adults don't like to make mistakes, and we definitely don't like to sound like we don't know what we are talking about.  The problem with learning a new language is that there's really no way around it. There are going to be times, no matter how carefully you try to avoid them, when you say the wrong thing or use a word incorrectly.  When, for example, your pronunciation of the Portuguese word for "bread" makes it sound like you are using a vulgar euphemism for a male reproductive organ. Or when the man behind the counter simply has no idea what you've ordered, and you choke down a milky tea because you don't know what to say to get a coffee.
When we make sure our learners understand that this is part of the language learning process, then things go better for them.  Understanding expectations is half the battle. If you know that there's no way around sounding like an idiot, then you don't feel so bad when it happens, and you put yourself in situations that push you to practice the way that you need to in order to succeed.  After the podcast, I came across this blog post by author Austin Kleon about how in order to learn do hard things, you need to be willing to be bad at them.  
As it turns out, learning a language is a hard thing, and if we teach our learners to be willing to make mistakes so that they can persevere despite occasionally sounding like an idiot, then we are setting them up for success.  If you'd like, you can listen to the entire podcast episode here or listen below.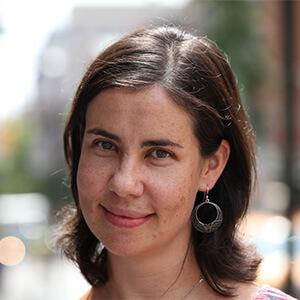 Katharine Nielson, Ph.D. leads a team of curriculum specialists, data analysts, and research associates to develop test items, curate language learning content, develop curricula, and run empirical studies. She's spent twenty years teaching languages, researching how to teach languages, and teaching people how to teach languages in various settings around the world.