A couple of weeks ago, I was at the TESOL International Convention, and I gave a talk about offering needs-based instruction at scale, including a discussion of how to leverage technology to drive learner engagement. This was an exciting presentation to deliver because I was able to use data from Voxy's recently released Needs Analysis as well as outcomes data from various cohorts of Voxy learners to illustrate my points. While I have written and spoken at length about why personalization is important for language learning and how technology can both measure and drive outcomes, this was the first time I had put all those things together in one coherent story, so I thought I would offer that here today.
At Voxy, we approach language learning as skill acquisition, and our products and services are centered around making sure that learners have meaningful practice with the real-world English that's relevant to their needs and goals. This means that we start out by figuring out what those needs are so that we can tailor our content and instruction as precisely as possible.  
To give you an idea of what that means, I looked at two months of data from several thousand Voxy learners, and discovered that 46% of them wanted to learn English for work, 33% wanted to learn English to help with tasks related to daily life, 13% were interested in the English they needed to succeed in specific academic subjects, and 8% wanted to prepare for standardized tests.
Clearly, someone who wants to learn English for the workplace is going to need different lessons than someone who wants to take college courses in English. But what exactly is "workplace English"? We need more granular answers in order to effectively differentiate instruction. Diving a bit deeper into the needs analysis data reveals a wide variety of work-related goals:
Read and write emails

Take part in phone conversations

Interact with customers

Understand happenings around the office

Take part in interviews

Conduct and participate in meetings

Give presentations

Negotiate

Write and read resumes and cover letters

Lead a team or company

Network

Be an entrepreneur
These work-related goals are going to be dependent on proficiency level, business sector, industry, and job task. Protocols for networking alone vary by country, industry, and hierarchy, not to mention job role and goal. One of the main benefits of the Voxy platform is that we can automatically tailor our lessons to learners' industries, interests, and skill needs. So, a hotel receptionist in São Paulo has a different experience from an engineer in Italy. Feedback from learners makes it clear that tailored instruction makes a difference:
"I recently took an assessment test for a job rise and I got it thanks to Voxy." – Cristina

"I am a Salesperson. English email and conversation is needed as a job requirement. The platform helps me a lot." – Antonio

"I work as a receptionist in a hotel, and the platform helps me to have better communication with my guests." – Helena

"Ms. Jackie is such a helpful and effective teacher…She understands [my] exact weaknesses and suggest[s] useful solutions." – Ayman
And the numbers bear this out as well. Voxy learners consistently improve their proficiency and use the platform outside of class, even when they are not required to do so.  Workplace after workplace realize the value of offering industry-specific language instruction, understanding firsthand that the English you need for the food and beverage industry is quite different from the English you need to discuss the ins and outs of manufacturing water pumps. You can help learners far more effectively and efficiently when you give them the tools they need to do their jobs.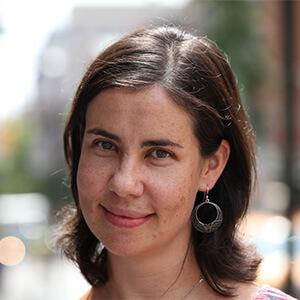 Katharine Nielson, Ph.D. leads a team of curriculum specialists, data analysts, and research associates to develop test items, curate language learning content, develop curricula, and run empirical studies. She's spent twenty years teaching languages, researching how to teach languages, and teaching people how to teach languages in various settings around the world.