A few weeks ago, I had the chance to give a talk in São Paulo about how to set up an effective workplace language learning program. As I've pointed out before, developing such a program can seem daunting, but there are straightforward ways to ensure that it will be successful, including making sure that learners are getting training that's suited to their real-world needs and having clear metrics for success.  
The speech I gave last month was special because I had the chance to co-present with one of Voxy's clients, TMF, and we got to learn about best practices directly from someone who has an effective workplace English program.
The biggest takeaway for me was that employees need to understand the value and the benefit of the language training program in order to stay motivated.  We know that learning a language is hard and that adults have competing priorities. One clear way to ensure that employees take their training seriously is to make it a requirement and tie it to financial compensation.  TMF does this by having trainees put down a deposit for their English course; if they comply with course requirements, then they get the deposit back. As with many other things in life, having some skin in the game helps people stay the course when the going gets tough.
If you'd like to hear the whole speech, it's available here. TMF opens the video, and my speech begins at the 7:00 minute mark.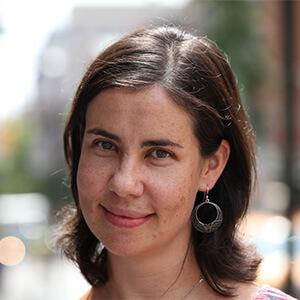 Katie is Voxy's Chief Education Officer, which means she leads the teams ensuring that learners are getting the most efficient and effective educational experience possible.  She has a PhD in Second Language Acquisition and years of experience teaching languages, building language courses, and evaluating the effectiveness of language training as a research scientist.  She lectures and writes about all things related to language learning and educational technology.