Understanding the importance of upskilling and how HR professionals can invest in this approach to develop teams and people.
According to the World Economic Forum, some 97 million new career opportunities could emerge in the global market by 2025. The labor market is undergoing profound transformations, being affected by new technologies and new social behaviors. As new professions emerge, new skills are required to keep teams increasingly specialized and competitive. That's what the upskilling trend is all about.
Throughout their careers, professionals in various sectors must continue studying to get to the next level, whether it is to reach a full senior position, becoming a specialist, or even to assume a leadership position. Lifelong learning is part of this growth process and brings with it the development mindset, whether to grow in one's field or to invest in a new profession.
Why should you incorporate upskilling into your company?
According to a survey conducted by McKinsey & Company, nine out of ten managers already suffer from skills shortages in some professional areas, and 87% of the companies do not have the talent they will need for the future.
This is why the topic has gained relevance in recent years. According to the Workplace Learning Report, carried out by LinkedIn in 2021, upskilling and reskilling are a priority for 59% of respondents, for example. This is mainly due to the acceleration of automation and the economic uncertainty brought on by the pandemic.
This trend has led large companies around the world to invest in their employees, promoting the learning of new skills. JP Morgan Chase, for example, has added about $350 million to its $250 million development plan to upskill its workforce, according to the World Economic Forum.
Moreover, investing in these development approaches helps to lower hiring-related costs and spreads a culture of employee appreciation. In most companies, filling of skill gaps from within the organization itself is not a common occurrence. Usually, awareness of the issue only emerges when a vacancy opens up. Companies don't stop before to consider whether any of the employees already present in the organization could perhaps fill the gaps detected.
This does not mean that all vacancies should be filled internally, but it is a great argument to convince companies to review their strategies; after all, betting on upskilling can be a great competitive differential for business growth.
What is the role of the HR team in the upskilling strategy?
In this scenario, HR teams play a crucial role so that, in the coming years, companies will not suffer from a talent shortage; they will have to ensure that professionals keep up with market changes.
It is important for companies to be aware of the skills gaps in each of their teams; the aim is to always invest in the training and retraining of their employees. Being mindful of this aspect, detecting when a professional needs training or when they should be reassigned to a new department is vital for the organization's success.
Thus, the human resources professional needs to stay increasingly on top of the latest market developments and to seek and see technology as an ally in order to become a point of reference in the sector. In other words, the concept of upskilling must be a constant in the life of this professional.
How do I implement upskilling in my company?
The first step in implementing an upskilling strategy or program in your company is to understand what the organization is looking for when it decides to invest in employee upskilling. For everyone to take full advantage of the benefits of upskilling, there needs to be a clear understanding of the business needs and the challenges to overcome.
After that, you need to choose the strategy you will use to apply upskilling to career management. Some examples of strategies that can be used include:
Innovative learning methods, such as online courses.
Mentoring programs for certain employees.
Finally, after having identified the company's requirements and chosen which strategy to use according to your objective, all you have to do is extend it to the personnel that you've targeted for professional development.
At Voxy we offer fully digital corporate training focused on the specific learning needs of each employee. Through the use of AI, our platform personalizes the most suitable content for each individual in order to increase engagement and encourage constant learning.
To learn more, schedule a demo and learn how you can increase your teams' productivity with our corporate training solution.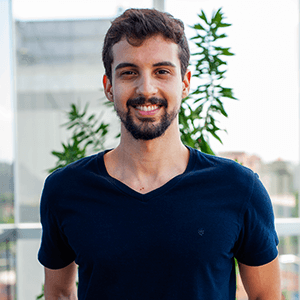 Matheus is a Senior Marketing Analyst at Voxy. Part of the Marketing team, he works hard to create valuable experiences that bring more happiness into people's lives. He has a Bachelor's degree in Business Administration by FEA-RP/USP and years of experience in marketing and communication.