An interview with experts from Mezcla Diversidade to understand how companies can put this into practice.
The issue of diversity and inclusion (D&I) has been a constant management concern for companies committed to developing their talents and markets.
According to data from the 2020 edition of the "Diversity Matters" study, conducted by consulting firm McKinsey & Company, only 21% of Brazilian professionals say that their company has high racial/ethnic diversity. The "A Diversidade e Inclusão nas Organizações no Brasil" poll — a poll on Diversity and Inclusion in Brazilian Organizations conducted by the Brazilian Association of Business Communication (Aberje) — points to a probable reason for this perception: recurrent prejudiced attitudes.
Organizations from various sectors have understood that diverse environments promote more team engagement and make the company more competitive and open to innovation. Thinking about this increasingly strong trend, we interviewed Heloísa Paula and Natália Públio, founders of Mezcla Diversidade, to understand what the Diversity and Inclusion scenario is like in Brazil today, what are some of the reasons to invest in this area, and how to put these projects into practice.
What is the Diversity and Inclusion scenario in Brazil today?
Natália Públio: Companies are part of society. Hence, it stands to reason that we'd see within companies the plurality that we see outside of them. Except that this is far from the truth, even more so if we start looking at leadership positions: few women, few black people, few LGBT+ people and few people with disabilities.

Reversing this picture and promoting programs focused on the issue is not only a matter of social justice, but it is also extremely fruitful for business. That same poll, for example, revealed that 63% of the 124 large companies surveyed invest in diversity and inclusion programs, and 57% of employees said that these initiatives have been expanded in recent years.
Why are diversity and inclusion important to the corporate world?
Heloísa Paula: Imagine this scenario: a group of people gather in a room to solve a critical problem, and they have a tight deadline. These people are all the same color, from the same social class, with very similar life experiences, have graduated from the same college, and live in the same area. Clearly, their ideas to solve this problem will be based on common ground and similar views. Now, bring into this room people from different regions, different age groups, different ethnicities, social classes, backgrounds, different sexual orientations and gender identities. This group will bring forth even richer, more diverse, and complementary solutions. That is how you foster an environment of innovation, bringing together different ways of thinking about a problem.

Besides the aspects highlighted in terms of contribution to innovation, it is worth noting how positive it is for a company's climate to have an environment that promotes innovation and diversity. People can be themselves, without masks, boosting the sense of belonging and motivation. When this happens, we see a direct improvement in productivity and a decrease in staff turnover.
How can companies put this into practice?
Natália Públio: That's the million-dollar question! If someone tells you they have the perfect plan, take it with a grain of salt. There is no single path to implementing D&I programs, but what's important is for the company to understand that it cannot be a separate special box to which they can resort on important calendar dates.

Diversity and Inclusion must be seen as a strategic pillar for the business and permeate all corporate processes and activities. Opening up to having more and more different people at all levels will help accelerate this understanding and the practical development of an inclusive and diverse culture. In addition, the company must make sure that all its processes, from end to end, include everyone.
And what is the role of HR and T&D in diversity and inclusion?
Heloísa Paula: This is why the role of HR is so important: that's usually where initiatives start. In most companies, this is where the D&I team is, where these projects and the people in charge of them are. But we need to make sure that those programs move beyond the confines of the HR department, giving them the necessary importance for a change in processes to take place and for actions to be legitimate.

One of the pillars for promoting an inclusive and diverse culture is education and training. In this regard, the Training and Development team is fundamental. In addition to designing the content and inviting speakers, there needs to be an understanding of what skills people need to develop, how often and within what forums, and the company needs to ensure broad access to the content for everyone, from new recruits to staff with decades in the company. The T&D department should also be in charge of monitoring whether everyone in the organization is getting access to the training and how it impacts their careers.
How do English language skills relate to this topic? How can they contribute to fairer opportunities?
Natália Públio: "Are you fluent in English?" is one of the most common questions in hiring processes, even if full command of the language is not an immediate requirement for the position in question.

Many companies have started to require fluent English for every position, but this is not always part of a person's work routine, or at least not as a main tool. Considering that we have a very small portion of the population that is proficient in the language, this is clearly a barrier to the employability of the majority of the population.

In this scenario, where access to language learning is still limited to a group of people from a specific social class, the language requirement becomes a factor that deepens inequality. For this reason, companies that invest in strategies such as corporate English training show their commitment to current issues and debates, and are also investing in the professionalization of their employees.
---
At Voxy, we offer fully digital corporate training focused on the specific learning needs of each employee, including content focused on diversity and inclusion. Through the use of AI, our platform personalizes the most suitable content for each individual in order to increase engagement and encourage constant learning.
To learn about how we can develop English training programs in your organization, contact our team. If you also want to learn more about Mezcla's work on diversity within organizations, click here to check out their website.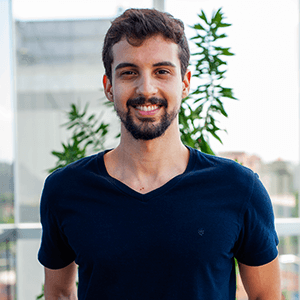 Matheus is a Senior Marketing Analyst at Voxy. Part of the Marketing team, he works hard to create valuable experiences that bring more happiness into people's lives. He has a Bachelor's degree in Business Administration by FEA-RP/USP and years of experience in marketing and communication.