See how the main trends in corporate training can make your company more competitive and productive.
The current pandemic has accelerated many digital processes worldwide. Apart from these, there has also been a change in our habits, behaviors and routines. The COVID-19 crisis redefined trends and forced us to rethink corporate training strategies, taking into account both the digital environment and changing work dynamics.
According to a study conducted by Voxy, 60% of HR professionals in Latin America believe that remote work is here to stay beyond the end of the lockdowns. In this scenario, the areas of training and human development (T&D) are directly impacted, having to adapt and shift their initiatives from the physical to the digital environment.
Given this scenario, we thought we'd list here some current trends in corporate training and how they create value for the business.
Corporate training trends to watch closely
The content used in digital training has to be well developed and designed specifically for this medium. After all, studies show that 75% of new knowledge is forgotten in just six days if it is not put to use. In other words, training initiatives need to address issues that are relevant to employees. Here are six T&D trends that stand out:
E-learning
Remote learning really came into focus in 2020. The e-learning approach has gained a lot of ground as it enables people to practice new skills even if they're not in the same space in person. This methodology is a technique that includes the use of various audiovisual and interactive resources to enhance learning.
The ideal setup for it to be put into practice is for the company to have specialized training platforms. It is through these systems that the organization can offer training that is aligned with the needs of the modern professional, leaning on the help of technology to closely monitor the performance of each employee.
Microlearning
Broadly speaking, microlearning is a learning method that provides information in a leaner, easier-to-digest format. When a lack of time and pressing demands become an everyday feature of our lives, offering content in a targeted, hyper-focused manner can help the learner achieve specific goals in a short period of time, which also allows for greater training schedule flexibility.
Upskilling
Similar to the concept of lifelong learning, upskilling is related to the personal development of the individual in areas and skills where they already have some level of knowledge. One of its advantages is that it leads to the development of more competitive and better trained teams, since the team feels more motivated and capable.
Education 4.0 and the learner's leading role
The concept of Education 4.0 refers to a teaching and training trend in which technology is incorporated into approaches where the learner studies through projects and different types of experiences, including personal life experiences, where he or she is the protagonist of the learning process. Thus, in this "DIY" model, it is individual learners and their routine that will set the pace of progress, their study times, and even the way they study.
Diversity and inclusion
Diversity and inclusion are issues that are increasingly present in the corporate environment. Businesses have understood that diverse environments promote more employee engagement, and make the organization more competitive and open to innovation.
Learning Experience Platform
The main advantage of this last trend lies in the personalization of the training, either for individual employees or for the company at large. An LXP platform uses artificial intelligence to personalize the learning experience. In this way, the content and lessons are adapted according to the objective of each learner, creating a study plan based on his or her needs.
How corporate training trends drive business value
More than just promoting learning in a more accessible way, the new methods and resources for corporate training save organizations both time and money. Moreover, investing in employee training is fundamental for companies that wish to be more productive and competitive, and that seek to stand out in the market.
Betting on innovation by combining some of the trends we have highlighted throughout this article can foster an environment of learning and knowledge sharing, and trigger a positive impact on the performance of staff and the organization as a whole.
It is also important to point out that online training carries several benefits:
Best value for the money
Inclusiveness and scalability
Time management and flexibility
Learning autonomy and personalization
Each company can adopt specific strategies and technologies for its employees to reach their goals efficiently. In this Voxy webinar, we talk about how technology can support employee engagement, key concepts and metrics, in addition to training strategies for your company.
If you want to learn about how Voxy combines innovative technology and effective methodology to deliver comprehensive English training, ask for a demo of the platform!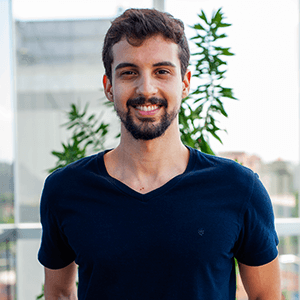 Matheus is a Senior Marketing Analyst at Voxy. Part of the Marketing team, he works hard to create valuable experiences that bring more happiness into people's lives. He has a Bachelor's degree in Business Administration by FEA-RP/USP and years of experience in marketing and communication.