These days there are two major topics on the rise: mental health and overall well-being. They are correlated and of interest to an increasing number of people, both experts and laypersons. I don't think I need to say much more for you to know what I'm getting at, right?  
After more than a year now, people all over the world have had to adjust their consumer habits and the way they coexist, and that, as we've seen day after day, has had a direct impact on society's well-being.   
More and more we're realizing that we need to recognize the things that make us feel anxious and uneasy and see them as something natural. After all, they are part of our reality. 
Mental health and well-being in the corporate environment 
Both in our social life and in the corporate environment, this kind of conversation needs to be had and be properly managed. And, even though a number of companies have already put the topic on their agendas, oftentimes it still needs adjustments in the approach in order to bring real benefits to employees. We need to take mental health and well-being seriously, ensuring that employees have access to quality information and understand the kinds of challenges that lie ahead. But how do we approach this topic in a natural and constructive manner? 
First of all, we have to find a way to bring the useful and the enjoyable together. In this case, that means finding a way to talk about it in the corporate environment in a light but meaningful way. To this end, we've put together a short list that may be of help:
3 ways to work on mental health and well-being applied to the corporate environment: 
In-company talks and events can be a way to encourage debate to foment passive knowledge on the subject among the teams. In other words: the employee receives the information about the particular topic but is unable to develop it, since, in most cases, these actions are quite specific to the moment.
As part of their corporate culture, some companies hold literary meetings that promote reading on various subjects. This type of space can be a good channel to suggest content that addresses the issue of mental health, spurring thoughts on the subject. 
More dynamic than the other two ways we've mentioned, thematic learning can be a great opportunity to promote personal development. Through this approach, the company creates a dynamic and engaging channel to inform people about the topic, thus increasing the learners' engagement. 
Mental health, well-being and lifelong learning at Voxy
It is a fact that people learn more quickly what they are interested in and what holds real benefits for them, and even more so now. Voxy's teaching methodology provides English training through specific themes so that professionals can learn English through relevant and current topics, wherever they may be. 
And speaking of combining the useful and the enjoyable, you can help your team improve their level of English while they learn something different. After all, with our platform, you have 100% online English training designed to develop your staff and also encourage discussion about mental health and well-being. 
Want to know more about our digital English teaching solution? Click here to schedule a demo or find out about our specific English course on mental health and well-being.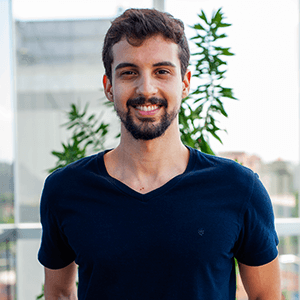 Matheus is a Senior Marketing Analyst at Voxy. Part of the Marketing team, he works hard to create valuable experiences that bring more happiness into people's lives. He has a Bachelor's degree in Business Administration by FEA-RP/USP and years of experience in marketing and communication.