El Puerto de Liverpool employees significantly improve their English language skills by using Voxy's all-in-one solution.
Universidad Virtual Liverpool is a part of El Puerto de Liverpool, which is made up of a number of businesses, including the Liverpool and Suburbia brands, shopping centers, and a credit entity, among others. It currently operates 122 stores under the Liverpool name and 157 under the Suburbia name. All of this considered, Universidad Virtual Liverpool understands the importance of having English as a second language.
How did Voxy help Universidad Virtual Liverpool?
From the moment talks began between Voxy and Universidad Virtual Liverpool, they worked together to design and implement a different kind of learning program, one that would also enhance employee soft skills.
To do this, they implemented an employee online platform featuring personalized content that is updated daily, as well as courses for career-aligned areas designed for employees to develop the oral skills they need in the workplace, with an option to access group classes.

In this case study you will see:
The importance of tracking relevant metrics and data to ensure a successful program

How Universidad Virtual Liverpool achieved its English training program goals in record time

The effective methodology that allowed 97% of students maintain or increase their English proficiency
Download the case study
Read this case study and get your language training program off the ground! To access the material, click here.
If you want to learn more about how Voxy combines innovative technology and effective methodology to deliver unparalleled online English training, schedule a demo with our Global Solutions team.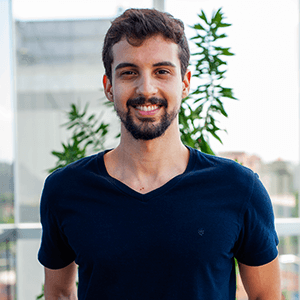 Matheus is a Senior Marketing Analyst at Voxy. Part of the Marketing team, he works hard to create valuable experiences that bring more happiness into people's lives. He has a Bachelor's degree in Business Administration by FEA-RP/USP and years of experience in marketing and communication.