After Colgate Palmolive implemented Voxy's digital platform, employees improved their English skills, allowing them to communicate better with colleagues and consumers.
Mission Hills, a company of the Colgate Palmolive group, manufactures personal care, home care and oral care products, serving the Mexican, Central American and U.S. markets. It maintains a significant presence in homes across the globe; thus, it is paramount for our collaborators to be able to communicate and share experiences with people from all over the world. English is the common denominator and a basic need for everyone.
How did Voxy help Colgate Palmolive?
To fulfill Colgate Palmolive employees' English training needs, Voxy offered a customized and innovative English learning platform with 24/7 access to real-world, custom content updated daily, together with group and private classes. Employees made progress using an adaptable and self-regulating platform that offers access to certified teachers 24/7.
In this case study you will see:
How Colgate Palmolive used English training to leverage global teamwork and continuous improvement

The importance of regularly updated real-world content to increase engagement

The impacts of Voxy ́s online solution on employees' English proficiency levels

How the company increased engagement levels on its training program
Download the case study
Read this case study and get your language training program off the ground! To access the material, click here.
If you want to learn more about how Voxy combines innovative technology and effective methodology to deliver unparalleled online English training, schedule a demo with our Global Solutions team.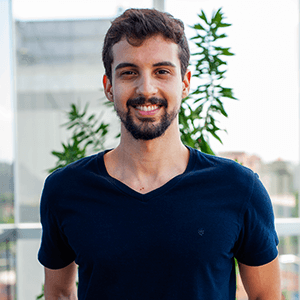 Matheus is a Senior Marketing Analyst at Voxy. Part of the Marketing team, he works hard to create valuable experiences that bring more happiness into people's lives. He has a Bachelor's degree in Business Administration by FEA-RP/USP and years of experience in marketing and communication.