2020 was a challenging year for everyone, but it led to significant advances in corporate digitalization. See how Voxy helped.
2020 was a difficult year for everyone, but Voxy was in a unique position to support our partner organizations around the world as they expanded or launched their digital transformations.
Let's take a look back at everything we accomplished together.
30 English courses launched
Voxy offers more than 60 courses catering to industries ranging from Technology to Hospitality to Finance to more, so that teams can level up their English skills and job skills together.
In 2020 our team launched 30 new English courses, with 15 of them exclusively created for our customers' needs. These were our most popular ones:
588K+ hours studied
Over 250,000 learners improved their English proficiency with Voxy throughout 2020, and combined they studied almost 600,000 hours. In addition to significant time spent in Voxy courses, students also attended 90,000 group classes and 36,000 private classes, making it Voxy's busiest year ever for our teachers.
The acceleration of corporate digital transformations was a clear theme across our customers' L&D departments: more than 55% of last year's learners joined Voxy after social distancing and quarantine measures went into effect around the world.
Click on this link if you want to learn more about Voxy's courses
Exclusive L&D materials
Our team of linguists, scientists, developers, designers, teachers and communication experts worked hard to understand trends and best practices to help businesses achieve their best possible results.
After several ebooks, webinars, surveys, and articles published, these were our top 5 L&D resources published in 2020:
Ready to see Voxy in action in 2021? Request a demo with our Global Solutions team and check how Voxy combines innovative technology and effective methodology to offer unparalleled online English training.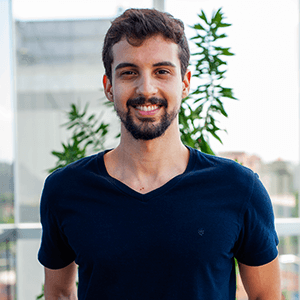 Matheus is a Senior Marketing Analyst at Voxy. Part of the Marketing team, he works hard to create valuable experiences that bring more happiness into people's lives. He has a Bachelor's degree in Business Administration by FEA-RP/USP and years of experience in marketing and communication.