More than a necessity, online training can be a powerful ally for L&D professionals. Learn more about the most important advantages of this approach for modern companies.
The shift of thousands of professionals around the world to a remote work environment has forced companies to adapt their processes and practices to fit this new digital reality.
In addition to identifying platforms and tools that would allow teams to continue performing their daily activities while serving customers without interruption, companies also needed to look for ways to keep up their corporate training programs, without face-to-face interactions.
In this new setting, the online alternative emerges as a great solution. Digital solutions make it possible to maintain existing trainings without impacting the quality of these programs, while also offering many advantages that are lost with in-person trainings. 
After speaking with a few of Voxy's international clients, we identified some of the main advantages seen in practice by professionals who decided to launch or expand their English training initiatives using a digital solution. Below we'll take a look at these highlights. 
Main advantages of online training
Best cost-benefit ratio
While face-to-face training involves intrinsic costs such as expenses with logistics, printed materials, travel, space for training, and any other type of related infrastructure, online training eliminates all of these costs by aggregating all necessary information on an internet-based online platform.
This way, employees can access the program content directly from their mobile devices (such as cell phones or computers) anywhere the internet is available, completely cutting out any logistical costs related to face-to-face scenarios. Some companies even reported a reduction of up to 55% in the total value of training after opting to migrate their programs online.
Scalability and inclusion
Another advantage related to cost reduction is the increased scalability and inclusion permitted by online training.
With lower costs, companies can expand the reach of their training programs to serve a larger number of employees with the same budget that would be invested in face-to-face programs, making this type of initiative more inclusive within organizations.
Also, online training is much more scalable due to the ease with which you can increase or decrease the number of actively enrolled participants. While face-to-face programs involve considerable bureaucracy to remove or include new employees in training, the online setting allows administrators to simply update participants using email lists that can either activate or deactivate users in the platform. 
Greater visibility and control
Another advantage provided by the use of technology in online training is easy access to metrics and clear indicators for monitoring the performance of both individuals and the program as a whole.
Top online training platforms offer frequently updated reports on employee engagement, evolution in skills covered in training, and various metrics that allow professionals in charge of these activities to make more conscious and strategic decisions.
By having more visibility into the impact of each training program, L&D teams can identify red flags and make adjustments throughout the program, such as initiatives to increase engagement or even transfer access to the program between employees, optimizing their return on investment.
Time management and flexibility
Internet access via both wifi and mobile networks is becoming increasingly ubiquitous in our modern society, and all this access allows employees participating in online training to have more flexibility in their studies.
Employees report an improvement in their quality of life after starting online training programs, as this alternative allows studies to be carried out based on what works best for each person's individual schedule. 
Personalized, up-to-date content
Without the limitations of printed, physical materials generally used in classroom settings, professionals who participate in online training have access to a wide variety of content – which can be further optimized by using artificial intelligence technologies to personalize and update the content according to the needs of each employee.
When done this way, online training is an alternative that drives not only high engagement for those enrolled in the program, but also more effective learning, by offering information that is truly relevant and interesting for each individual.
With so many advantages over face-to-face training, it is clear why online programs are gaining more and more space in companies that want to optimize their L&D initiatives. If you want to learn more about this and other business training trends, check out our ebook "Digital transformation trends in corporate training".
To learn more about how Voxy combines innovative technology and effective methodology to offer unparalleled online English training, request a demo of the platform with our Global Solutions team.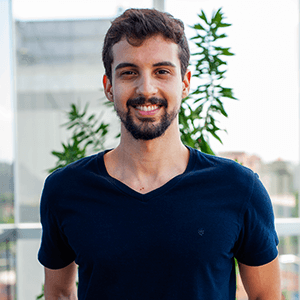 Matheus is a Senior Marketing Analyst at Voxy. Part of the Marketing team, he works hard to create valuable experiences that bring more happiness into people's lives. He has a Bachelor's degree in Business Administration by FEA-RP/USP and years of experience in marketing and communication.