We are always excited when people attending our webinars have lots of questions and comments. Our recent webinar, "Building Building IET Career Pathway Programs for ELLs in the Virtual Space," hosted by the Coalition on Adult Basic Education (COABE), had even more questions than we could answer in the allotted time, ranging from understanding how the Voxy platform can be tailored to the individual needs of our learners to questions about our career-aligned English courses. In this special edition of the Voxy blog, we're answering five questions that came into the Voxy team after we had finished the COABE webinar. взять займ бесплатно
1) Is there a pre-test? How do you know what level a learner is when they enter the Voxy platform?
As learners begin their journey with Voxy, they are prompted to take the Voxy Proficiency Assessment (VPA®). The VPA is an objective and reliable online test that evaluates a test-taker's current English proficiency level and can be used as a benchmarking tool to compare industry-wide testing standards. The VPA® features an optional speaking section that allows learners to submit audio recordings of their responses to oral and written prompts, which are then graded by our certified English assessment specialists. Through a combination of cutting-edge technology and human expertise, the VPA® is convenient to take from home while maintaining the accuracy of an in-person interview.
2) Does Voxy proficiency levels align with other metrics like NRS or TABE?
Because the VPA® shares many similarities with nationally and internationally recognized standardized tests, such as the TOEFL, IELTS, TOEIC and PTE, it can be used to predict how your learners will perform on those tests. The Voxy Research and Assessment Team has analyzed the results of more than 50,000 test takers to accurately calibrate the VPA® to align with multiple proficiency scales and standards, including NRS and TABE. If you want to see how Voxy aligns with other metrics, visit our VPA page.
3) Is there an opportunity to practice speaking and responding?
Beyond the initial VPA®, the Voxy platform offers learners the ability to practice speaking and writing through our small group classes, individual classes, and our pronunciation practice feature. Learners who engage with virtual live classes improve their proficiency more quickly than learners who just use the self-study platform, and they are also more engaged with their own learning.  Our live instruction allows teachers to give immediate feedback to learners.
4) Could Voxy be used in a job-site ESL class?
Definitely. Our platform is used for a number of different job-site ESL classes. We encourage you to learn more about the organizations we work with, including this recent case study highlighting the University of Maryland (UMD) and how they implemented a Voxy-powered language training program for their current residence hall staff.
5) Are there activities within each course for students at different levels?
Voxy's machine learning algorithms create personalized content for every learner and our courses offer a number of speaking, reading, and writing activities. Our intuitive platform and certified teachers tailor instruction to each individual while content and classes are automatically adapted to the proficiency level and needs of each learner.
6) Is it possible to get a demo of your courses including those for high beginner/low intermediate learners?
Voxy offers a wide array of courses including our career-aligned courses that cater to the needs of learners of all proficiency levels. To learn which ones are right for your team, contact one of our solutions specialists here to schedule a demo.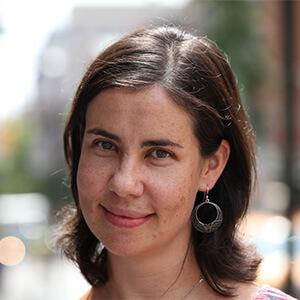 Katharine Nielson, Ph.D. leads a team of curriculum specialists, data analysts, and research associates to develop test items, curate language learning content, develop curricula, and run empirical studies. She's spent twenty years teaching languages, researching how to teach languages, and teaching people how to teach languages in various settings around the world.