Welcoming Week, an annual integration initiative that empowers immigrants, refugees, and other new Americans, took place September 13 to 22 nationwide. In New York, on September 23, the New York City Employment and Training Coalition (NYCETC) continued the conversation at its 2019 conference, and Voxy sought to bring welcoming to workforce development. The NYCETC conference brings together over 500 national and local experts, employers, workforce professionals, government officials, and funders for a day filled with information, idea sharing, and networking. Topics at the recent conference centered on preparing New Yorkers, including immigrants and other underrepresented groups, for the 21st century workforce.
Why This is Important
New York City is booming with tech companies and economic development. Yet, according to the city's council members, over 40% of New Yorkers have experienced poverty in the past year. Councilwoman Carlina Rivera, who represents the borough of Manhattan, specifically notes: "40% of New Yorkers also have low literacy. It's time to look at what is happening in our classrooms." There is a need for more skills based training so individuals in hyper-localized communities can attain and retain jobs. Rivera also said half the city is lacking English proficiency, another reason why bridge programs are important. Another council member, Rubén Díaz, a representative for the Bronx, a borough in New York City, echoed a similar sentiment, stating many of our young people don't have the necessary soft skills for future employment. Curricula should include financial literacy skills in public school. Council members weren't the only representatives in attendance. We also heard from large conglomerates like Xerox's Vice President and Chief Talent Officer, Irina Paullay, who emphasized that just-in-time learning trends reveal the direction education technology (and the workforce) are heading. Voxy builds high tech career pathways for English language learners for the high tech jobs of the future, and we are excited to develop those programs locally.
Utilizing the Talent Pool and Connecting Immigrants to Available Jobs
Tadd Wamester, Director of Voxy's New Americans Initiative, was also a featured panelist during the NYCTEC conference and imparted useful information to attendees. Tadd drove home the point that immigrants are a valuable part of the United States, as a workforce and as a community. Yet, barriers to professional success for immigrants can be as simple as commuting constraints, childcare obligations, or life in general getting in the way of opportunities to develop English language skills. Another hurdle immigrants face is credential validation and understanding the U.S. job search experience, which were illuminated by skilled immigrant integration experts from WES Global Talent Bridge and Upwardly Global. That is, an immigrant who is a degree holder or certified professional in another country is often asked to repeat the process to accreditation again once they decide to live and work in the U.S., and even still does not understand the culture and customs of the U.S job search, This is the ubiquitous story heard from former engineers now Uber drivers to medical professionals unable to find work in doctors' offices and hospitals. NYCETC and other similar conferences reinforce the need for organizations to develop partnerships in immigrant communities so that goals of inclusive, diverse, and equitable workforce development are achieved.
There are ways you too can cultivate career pathways for immigrants in your community and workplace. Learn more about Voxy's New Americans Initiative or contact us here.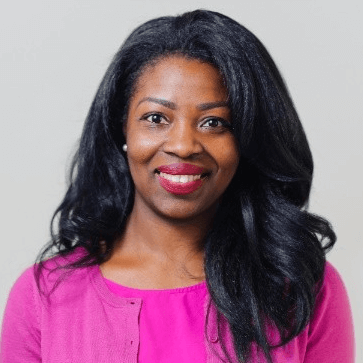 Alexis is one of Voxy's Marketing Managers. Part of the Marketing team, she helps showcase how Voxy improves careers and performance by breaking down workplace language barriers. She has a Bachelor's degree in Business and many years of experience leading marketing strategy for multinational organizations. Prior to joining Voxy, Alexis was on the Global Marketing team at WebMD.