The United States has been, and remains, a nation of immigrants. In fact, nearly 50% of Fortune 500 companies were founded by immigrants or children of immigrants. Collectively, immigrant-founded companies employ millions of workers and contribute to the growth of our global economy. However, despite economic contributions and innovation, reaching success as an immigrant in the US is not without challenges. Each generation of new immigrants faces significant obstacles: starting over in a new country requires understanding bank accounts and taxes, enrolling children in school, renting apartments, getting licensed to drive, and obtaining gainful employment, just to get started. Each of those tasks comes with inherent complexity, but the primary hurdle is linguistic. It's hard enough to pick up and move when you can speak English fluently, imagine doing it without the ability to communicate.
Voxy's New Americans Initiative aims to help immigrants, refugees, and asylum seekers achieve their goals while bringing their invaluable skills to the U.S. workplace and to their receiving community. Our New Americans Initiative partners with state and local governments, nonprofit organizations, employers, universities, as well as workforce boards. Developing diverse talent for high demand jobs through accessible and effective language training is among the main cornerstones of this initiative.
Instead of offering general "English" courses with static, outdated textbooks, our patented software lets us quickly produce custom courses designed for the needs of New Americans.  For example, we are offering sector-specific training in high-demand careers with upward mobility, like Certified Nursing Assistants, IT Help Desk Technicians, and Customer Service representatives. We are building courses that integrate general English skills with information about legal services and civics as well as courses that combine English instruction with lessons on personal financial literacy and entrepreneurship. And we are creating courses that prepare New Americans to take the mandatory standardized tests that serve as gatekeepers to federally-funded education programs and higher education.
Now is a more exciting time than ever to explore the possibilities of empowering new residents to the US. Paving career pathways for immigrants, refugees, and asylum seekers, helps to curtail the talent shortages industries nation-wide are facing. Have an interest in ways your organization can help new Americans achieve their language learning goals? Learn more about Voxy's scalable and accessible adult English language instruction.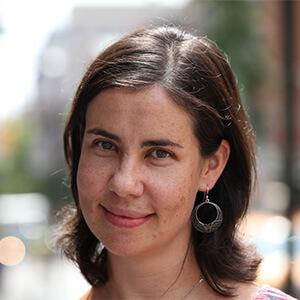 Katie is Voxy's Chief Education Officer, which means she leads the teams ensuring that learners are getting the most efficient and effective educational experience possible.  She has a PhD in Second Language Acquisition and years of experience teaching languages, building language courses, and evaluating the effectiveness of language training as a research scientist.  She lectures and writes about all things related to language learning and educational technology.