One of Voxy's strongest assets is our content. With our extensive library of high-quality content, we equip our learners with the English language skills needed to accomplish everyday tasks. Sourced daily from reputable publications across the globe, our lessons focus on topics that range from business news to celebrities and from sports to healthcare. Yet, this content would not be as helpful if our learners were unable to navigate lessons based on their needs. That's where the magic of Voxy's machine learning comes in to provide content recommendations to our learners.
Machine Learning and Goal Setting
When a new learner first logs on to Voxy, we ask questions about their language learning needs in order to select the right content to help achieve their real-world goals. From there, our machine learning algorithm is able to begin providing an individualized user experience. A learner who indicates they are a financial professional needing language training to do presentations and write emails in English will get a different learning path than a university student preparing for the TOEFL exam. The same goes for the engineer in Brazil or the waiter in Italy. Each learner's experience with Voxy is unique.
Following the Progress of Each Learner
Learning a language is learning a skill, and every learner deserves a unique experience to maximize their chances of success. Therefore, Voxy does not offer a stale, predetermined path for learners to advance from one level to the next. Each learner gets a personalized experience both in the content recommended and the activities presented.
Voxy uses artificial intelligence to adapt in real time to give learners the most meaningful practice possible. Our algorithm tracks learners' progress to give them activities that meet their needs. If a learner is struggling with specific vocabulary or listening comprehension questions, they will see more of those particular practice questions until they get better.
That's how people learn best and that's why Voxy is so effective!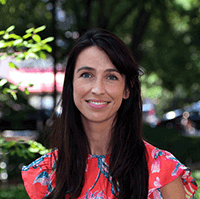 Susy is an Account Executive at Voxy. Part of the Channel Partners team, she works to recruit new resellers in Europe, the Middle East, and Africa and helps them design successful sales strategies to expand Voxy's presence in their market. Susy is originally from France and studied Political Sciences at Sciences Po Lyon before moving to Philadelphia to get her Master's of Public Administration from the University of Pennsylvania.