Voxy's Channel Partners distribute our English learning platform around the world as an added value to their current products and services portfolio. The most successful Voxy Channel Partners not only sell Voxy to current and prospective clients, but, most importantly, use Voxy to expand their offering through thoughtful platform personalization. Whether aligning an existing English curriculum to Voxy's content, or creating a course to address the needs of a new sector, there are many ways that Voxy can be customized to meet different learner and customer needs.  Below is a brief case study on how one of our current Channel Partners used Voxy Custom Content to recruit a new client and establish a pilot program that has the ability to grow into a huge contract.
The Channel Partner
The Language Co is a language school based in Chile that has offered in-house and on-site face-to-face English classes for more than 10 years. Their customers include children, adults, and prominent businesses across Chile
Why They Partnered with Voxy
The Language Co has been in the language training industry for many years in Chile, but the company recently faced a number of challenges: a) their clients increasingly need more detailed and customized content that is hard and expensive to source, b) their growth was limited to where they could send their teachers, and they could only serve clients that were reachable by car, and c) government incentives and subsidies were making it easier for companies to offer training to more employees by buying less expensive online courses. They needed a solid, reliable online solution to remain competitive.
Customer Need
The Language Co was recently negotiating a deal with a prominent wine group that has more than 1,000 employees across Chile and Argentina. They are the second largest exporter of wine in Chile and currently serve more than 80 countries around the world. The Language Co was already working with this customer, offering face-to-face business-English classes at their offices in the area, but as the wine group continued to grow, they were looking for a digital solution that would allow their employees around the world to improve both their general conversational English as well as their English specific to the wine industry. During a demo, our partner used Voxy's Real Media section to find lessons that deal with wine and also showed how the platform includes personalized units focused on "Business" and "Food & Drink." The prospect liked the platform, the methodology, and the food & beverage content, but really wanted additional content specific to the wine industry.
The Solution
Our partner suggested that they explore the possibility of commissioning a mini "Custom Content" course. They proposed a one-unit course that combined some currently available Voxy resources with company and industry-specific resources provided by the customer. This way, we could create a completely personalized course that could be trialed with their first group of learners before deciding to commit to a multi-unit course. This solution increased both the value of the platform as well as the size of The Language Co's contract, as they were able to include industry-specific content and more than double the amount of learners that they were previously servicing. The customer is currently demoing the course and are very happy with the quality of the content and ease of use. We are excited for a long relationship with this customer. Please contact us to learn how we can provide value and break down language barriers for your organization as well.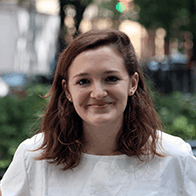 Katie is responsible for Sales Enablement and Customer Success for Voxy Channel Partners.  Katie trains people around the world to spread the Voxy mission and bring effective and fun English training to those who need it most.  She graduated from Providence College with an B.A. in Psychology and a Masters degree in School Counseling.