The tourism and hospitality industry contributes $7.6 trillion to the global economy every year and employs nearly 10% of the world's working population. But within this vast industry, there are critical skill gaps preventing companies and employees from providing the highest level of service.
"Today we have a shortage of qualified employees,"explained Ghassan Aidi, President of the International Hotel and Restaurant Association (IHRA). "Hotels need to train their employees. It is the only way to improve the quality."
But it's not just hotels—tourism and hospitality includes countless other sub-industries that increasingly rely on English as the primary language to communicate with customers and coworkers. For tourism and hospitality professionals who interact with people from all around the world, being able to communicate in English is essential.
That's where Voxy can help. We've created career-aligned courses designed to provide professionals with the up-to-date English practice they need to excel in their careers.
Voxy's English for Tourism & Hospitality course casts a wide net across hotel management, dining and food service, tour operations, attraction management and event management. Learners can watch videos of real Hilton employees giving hotel tours to guests, hear examples of how to respond to customer questions and complaints and much more.
With career-aligned courses, your learners can study exactly what they need to know, with authentic content that's always up to date. Check out the screenshot below to see an example lesson from the English for Tourism & Hospitality course.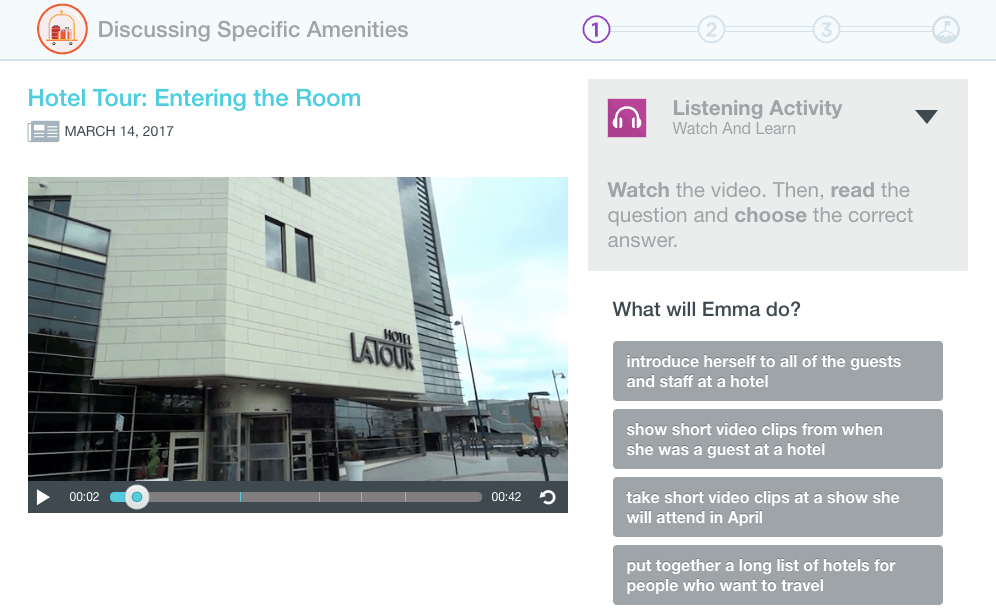 Want to learn more? Click here to visit our English for Tourism & Hospitality course page.