To be a successful marketer, it's critical to stay on top of the industry terms and tactics that are constantly changing in today's digital landscape. Take mobile marketing, for example: More than $100 billion was spent on mobile advertising last year, accounting for more than 50% of all digital ad expenditure globally. That's a nearly 430% increase in just three years!
If you're learning English to move into a growing field like digital marketing, how can you be sure you're keeping up with industry trends while you're also learning how to communicate with your colleagues?
That's where Voxy can help. We've created career-aligned courses designed to provide professionals with the up-to-date English practice they need to excel in 21st-century careers.
Voxy's English for Digital Marketers course contains more than 42 hours of content from the acclaimed technology bootcamp General Assembly. Learners will receive an introduction to digital marketing, plus deep dives into social media marketing, mobile marketing, content marketing and the user experience.
With career-aligned courses, learners can study exactly what they need to know, with authentic content that's always up to date. Check out the screenshot below to see an example lesson from the English for Digital Marketers course.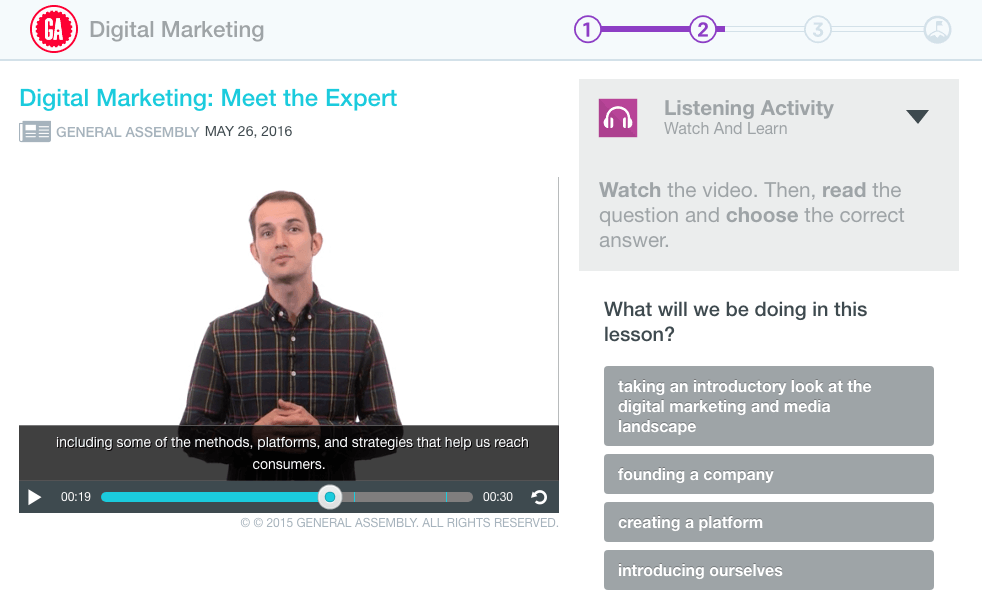 Want to learn more? Click here to visit our English for Digital Marketers course page.