Imagine you're an emergency room nurse, managing multiple life-threatening injuries in a hectic environment, rushing alongside dozens of other medical professionals to get a patient in critical condition the treatment he needs to survive.
Now imagine having to do all that in a language you're not comfortable speaking.
When you need to learn English for work, you need training that goes beyond general terminology and basic conversation skills—you need to learn the language that you actually use in your career. And when doing your job can mean the difference between life and death, it's even more important to learn the language that's specific to your needs.
That's where Voxy can help. We've created career-aligned courses designed to provide professionals with the targeted English practice they need to excel in their current industry or to pursue new career opportunities.
Voxy's English for Healthcare Professionals course contains 11 units and more than 40 hours of content from authorities like the National Institutes of Health and the Center for Disease Control. Learners will understand basic human anatomy in English, how to describe diseases and conditions in English, how to interact with patients and other doctors, terminology for specific fields of medicine and current medical news. We know that learning is more effective and more efficient when learners are focused on the language they need to accomplish their goals, whether that means being able to have an effective appointment with a new patient or studying for a career in oncology.
With career-aligned courses, learners can study exactly what they need to know, with authentic content that's always up to date. Check out the screenshots below to see examples of lessons that learners will see in the English for Healthcare Professionals course.
Check out a lesson example below: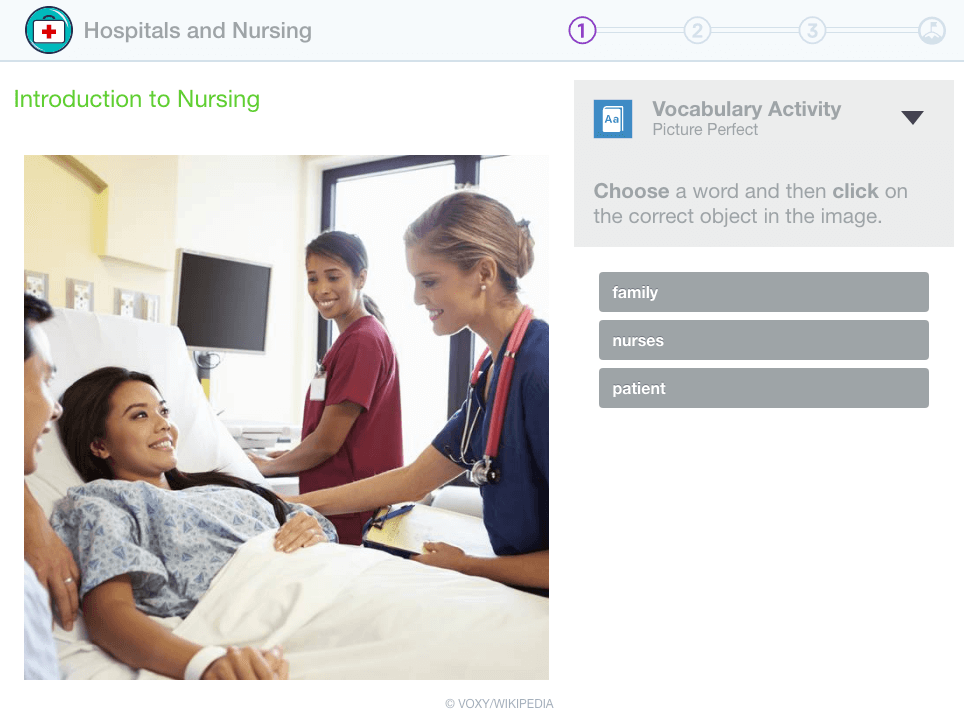 Want to learn more? Click here to visit our English for Healthcare Professionals course page.