How do we know that Voxy works? We track language learning outcomes more comprehensively than any of our competitors, using a set of metrics that nobody else does. Check out four key metrics below that show Voxy results in higher engagement, proven learning outcomes and happy customers.
1. TIME ON TASK
Learners use Voxy for longer than other, competitive products.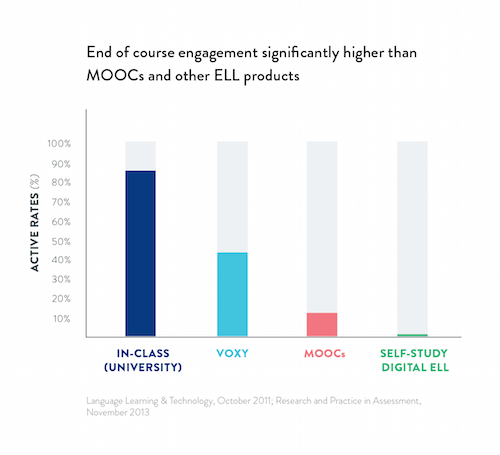 2. DEMONSTRATED MASTERY OF LANGUAGE & CONTENT
The majority of Voxy learners demonstrate mastery of their course content.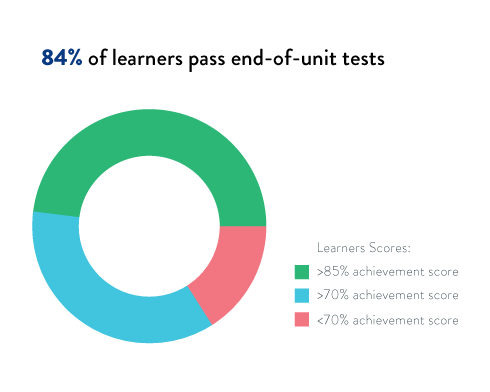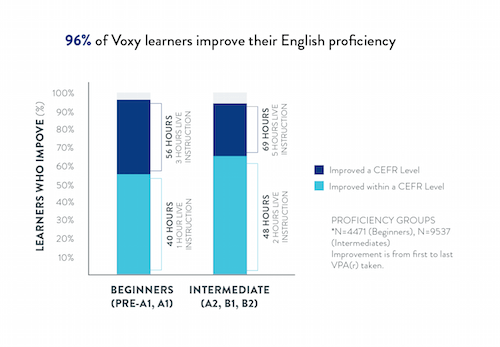 3. 360° SATISFACTION
Stakeholders give nearly universally positive feedback about Voxy.
NPS Score: 59
"I am taking over management of a restaurant and I need to speak English so I can communicate with tourists. Voxy lets me practice my restaurant dialogue, plus other topics just for fun!"
—Cris, Colombia, Voxy Learner

"Voxy positively impacts our business. Because of their great content, our teachers spend less time creating lessons."
—Xok Language School, Brazil, Voxy Partner
4. REAL-WORLD SUCCESS
Voxy learners demonstrate real-world success—also known as task transfer—by accomplishing their language learning goals.
"I am very pleased to offer you a position of a Post-doctoral Associate in my laboratory in the Department of Cell, Developmental and Integrative Biology, School of Medicine, at the University of Alabama at Birmingham."

"I hereby attest that, after the thorough English course using the Voxy platform, Dr. Ana Marise Auer, Landuse Planning and Conservation Manager at Instiuto Ecos, became capable of performing new managerial duties in our international projects."