Voxy is pleased to announce that it has been awarded Best in Class in the Education category by the 2015 Interactive Media Awards™.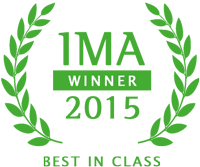 The Interactive Media Awards™ recognizes the highest standards of excellence in website design and development. This year's judging criteria included design, usability, innovation in technical features, standards compliance, and content.
"Voxy is honored to see its online learning platform recognized by the Interactive Media Awards™," said Juan Torres, Chief Operating Officer at Voxy. "We're changing the way the world learns English through innovative web and mobile design and a proven pedagogical method. Voxy's adaptive technology allows us to personalize English learning on the individual level, and this award is a testament to that accomplishment."
To read the full press release, please click here.
To see the full list of Interactive Media Awards™ winners, please visit www.interactivemediaawards.com.